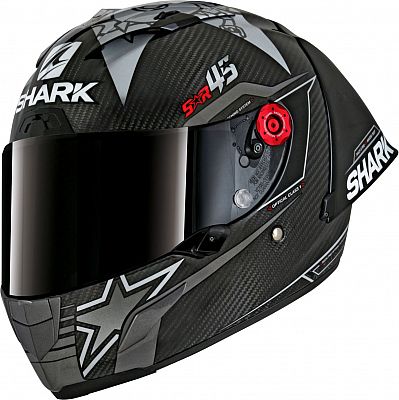 Shark Race-R Pro GP Redding Winter Test Replica Ltd, integral he
Product Code:
9060_8283_53987
OverView
SHARK Helmets offers top-end helmets, which are also worn by top-level riders, because there can be no compromise on safety at high speed. These riders are involved in all the product development phases and enable us to constantly innovate. Features
A shell built with a COVA (Carbon On View & Aramid) structure: lightweight, resistance to both abrasion and compression, effective at preventing delamination, shock absorption. Multi-density, EPS(Expanded Polystyrene) shell: optimal damping at each impact zone. Chin guard fitted with a removable, variable airflow anti-pollution filter. Dual-density, EPU (Expanded Polyurethane) chin guard: Material designed above all to absorb shocks reverberating around the chin guard. Ergonomic visor grip for improved handling and easy opening. High-strength visor comes with an Optical Class 1 rating and variable thickness (ranging from 4.2 mm to 2.8 mm) without introducing any visual distortion. Treated to prevent scratches and fogging. System installed to enable quick visor disassembly. «Quick Spoiler Safety System»: allows ejecting the spoiler in the event of a fall to limit the effects of secondary shocks and thereby guarantee the rider's optimal safety. Aerodynamic spoiler: the Race-R Pro GP has been equipped with a spoiler designed to optimize aerodynamic performance when traveling at very high speed*. Two-tone, high-tech «Alveotech» lining fabric featuring the Sanitized® label. Wrap-around and breathable neck protection Specially designed for optimal acoustic insulation. «Dual use», anti-fog breath guard with added functionalities: a fixed piece + a snap-on removable piece. New technology used to cut out «3D morpho» cheek contours providing maximum comfort and support. Shape memory ear pads that serve to muffle noise due to acoustic vibrations. Visor mechanical and bolts with anodized premium finish and laser engraving "SHARK Racing Division" Double-D buckle in anodised titanium. Magnetic tip for ensure a perfect fit. Neck protector with unique design and laser marking.
In the Box
A special «Winter Test» box and helmet cover sporting an exclusive design The «Winter Test 2018» Race-R PRO GP Replica The official «SHARK Racing Division» bag used by our MotoGP racers A «dark smoke» tinted, anti-scratch / anti-fog visor Official sponsors' stickers
* Extreme speed beyond the authorized legal limit: reserved for track trials.